4 Cupid Approved Valentine's Day Spots in Chester County
Posted by Kelly Eshleman on Wednesday, February 7, 2018 at 10:50 AM
By Kelly Eshleman / February 7, 2018
Comment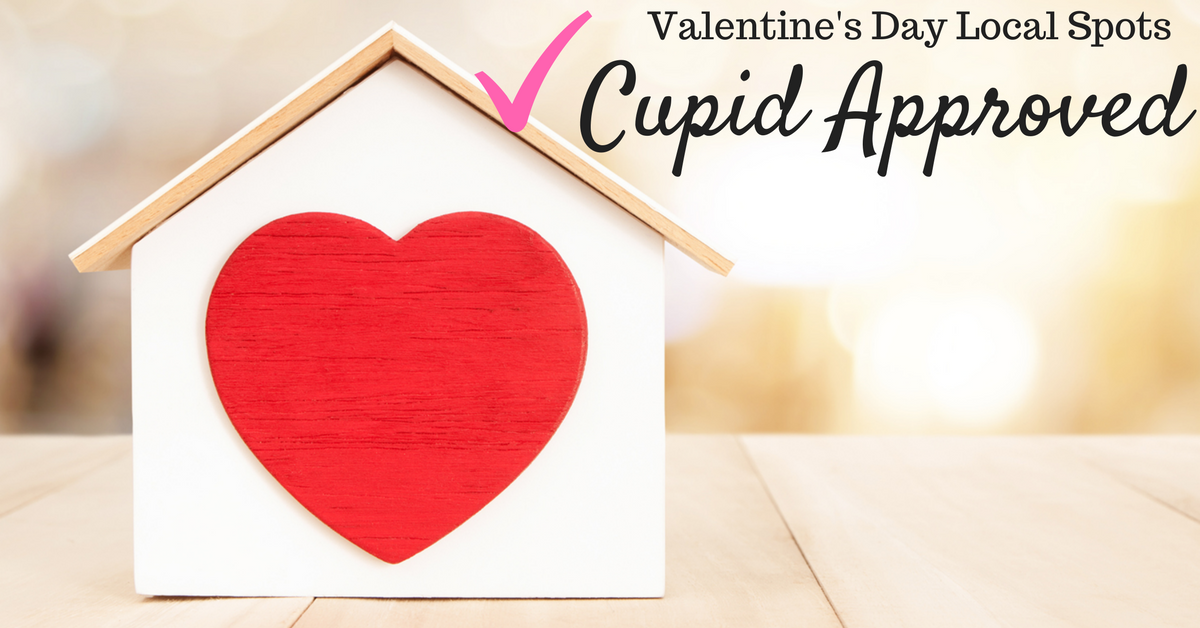 We are a week away from St. Valentine's Day! In researching some things to talk about for this topic I was able to gather a few fun facts and statistics. Check your knowledge to see if you find these surprising or if you already knew…. ( there won't be a test, I promise).
About 1 billion Valentine's Day cards are exchanged each year. This makes it the second largest seasonal card sending time of the year.
Many believe the X symbol became synonymous with the kiss in medieval times. People who couldn't write their names signed in front of a witness with an X. The X was then kissed to show their sincerity.
In the Middle Ages, young men and women drew names from a bowl to see who would be their Valentine. They would wear this name pinned onto their sleeves for one week for everyone to see. This was the origin of the expression "to wear your heart on your sleeve."
Over $1 billion worth of chocolate is purchased on this romantic day in the U.S.
The red rose was the favorite flower of Venus, the Roman goddess of love.
How did you do? I'm embarrassed to say I didn't know any of the above but I do now! I think 2 and 3 are easily my favorites. What are yours? Interestingly enough, I use the X and O all the time, just assuming it was a hugs and kisses thing! Who knew?!
I find Valentine's Day seems to be one of the Holidays celebrated in the US that people either love or hate. Sometimes it has to do with their current dating/martial/conscious coupling or uncoupling status or just the fact that it's one more thing to add to our ever-growing TO DO Lists.
Do we make a special dinner in, select great take out or get dressed up and make reservations at our favorite local restaurant? Roses, candy, jewelry or all the above?
Do we spend 8 dollars on a card (I know yikes right) or put our creative heads and hearts to work and make a special card (complete with LOTS of X's and O's)?
If you choose to stay in and make a family favorite, we are so lucky to a Wegman's (Downingtown) right in our backyard. They have the freshest produce, specialty items, amazing seafood, FLOWERS and CANDY! Almost your one stop shop for your extreme Valentine meal.
---
Some local places we LOVE in Chester County:
Roots Cafe, West Chester
Organic Farm to Table
Roots was grown from an ambition to provide local, organic, and affordable food to our guests. Our mission is to serve the well-being of people and the planet by supporting sustainable farming practices and a healthy lifestyle.
http://rootscafewc.com/
Bar Avalon, West Chester
Modern Bistro
Bar AV is a neighborhood restaurant and bar serving modern bistro fare & craft cocktails located in West Chester, Pa. Lively, comfortable and casual, dining at Bar Avalon is perfect for a variety of occasions, boasting a casual bistro menu with gourmet pizzas, handmade pastas, fresh fish & braised meats and a bar that steps back in time with prohibition-era and handcrafted specialty cocktails, bourbons, extensive wine list and a dozen draft beers.
https://www.avalonrestaurant.net/

Pietro's Prime, West Chester
Zagat rated Steak and Seafood House
Upscale West Chester restaurant menu is loaded with many different cuts of beef, a variety of tasty seafood selections, and the most unique martinis in West Chester! Pietro's offers live entertainment on select nights and offer the best happy hour in West Chester too!
http://www.pietrosprime.com/
Anthony's Cucina Fresca, Downingtown
Homestyle Italian
A place to relax and enjoy the heartwarming flavors of Italian homestyle cooking with the freshest of ingredients. From handmade pastas and aromatic sauces prepared daily–to elegant homemade desserts with sweet, rich flavors that will leave you wanting more–our passion and enthusiasm for fresh food is evident in everything we create.
At Anthony's, we believe that the Italian tradition of spending time at the table with family and friends,enjoying a delicious meal, is an important part of the recipe for a happy life.
http://anthonys-cucina-fresca.business.site/
---
Have a heart and get a jumpstart on making your special plans today! Whether it's making a menu and cooking in or making a reservation and going out; you now have some tips to be the best cupid ever!
Remember what we learned….
Make or buy your Valentine a special Valentine.
Help the economy and buy that chocolate candy heart.
Red Roses bring out the LOVE for your Valentine.
Wear YOUR heart on your sleeve when spending time with your special someone.
Last but not least…..DON'T FORGET THE X and O's!

Until next time…..XOXOXO